Villas in Ocho Rios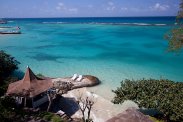 Price starts from US$ 600
Mamiti Cove Beach
A 3 bedroom villa situated near the city of ocho rios, Steps from the villa will lead you to A beautiful private white sand beach and a Gazebo.
Details
Minimum stay 5 nights
Max. 8 persons
3 Bedrooms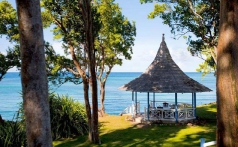 Price starts from US$ 1100
Eight Rivers
Eight Rivers Villa in Ocho Rios
Details
Minimum stay 7 nights
Max. 8 persons
4 Bedrooms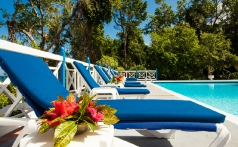 Price starts from US$
Frangipani
Frangipani Villa in Ocho Rios
Details
Minimum stay 7 nights
Max. 8 persons
4 Bedrooms
Ocho Ríos (Spanish for "Eight Rivers") is a town in the parish of Saint Ann on the north coast of Jamaica. Although he landed in many spots along the Jamaican coast, many believe that Christopher Columbus first set foot on land in Ocho Rios. Just outside the city, travelers and residents can visit Columbus Park, where Columbus supposedly first came on land, and see maritime artifacts and Spanish colonial buildings.
It was once a fishing village but now caters to tourists. It is a port of call for cruise ships as well as for cargo ships loading sugar, limestone, and in the past, bauxite.
Scuba diving and other water sports are offered in the town's vicinity.
The name "Ocho Rios" is a misnomer because there are not eight rivers in the area. It is most likely a British corruption of the original Spanish name "Las Chorreras" ("the waterfalls"), a name given to the village because of the nearby Dunn's River Falls.
The north coast highway from the international airport at Montego Bay to Ocho Ríos has been improved since 2000 and the journey is now an hour and forty five minutes drive.
The town has restaurants, night clubs in Margaritaville and Dolphin Cove, where tourists swim and interact with dolphins.
It is perhaps most notable for its use in Dr No, the very first James Bond film, which was released in 1962. It was the home of Miss Taro, played by Zena Marshall, who was an adversary of Bond (Sean Connery) and in alliance with the main villain Dr Julius No (Joseph Wiseman).
Dunn's River Falls
Known for its waterfalls, the most famous and visited attraction of Ocho Rios cascades over rock terraces down a 600-foot-plus cliff to the sea. The steppingstones of Dunn's River Falls shower and cool off guests and allow easy walking access up and down the cliff for guided tours. People can see the coastline from the top and participate every week in a feast that features music, dancing and swimming.
Our Villas in Ochi: